NOLA!!
It's been a major destination point of mine to visit and I finally made it down this past August. 
In the thick of the heat.
(Apparently I was there during the least travelled time of year because the heat is borderline unbearable. Hard to believe though because the French Quarter was still roaring with beer-slingin'-music-lovin' wanderers. What's it like during Mardi Gras!?)
The drive from Denton, Texas to New Orleans was so exciting because I passed nearby cities such as Lafayette, Baton Rouge, and Lake Charles which I've been hearing about through listening to my favourite songwriters like Lucinda Williams. All my muses were being fused into a heavenly highway drive.
I really love the vibes and the quirky picturesque scenery of New Orleans. A lot of NOLA's sidewalks are beautifully paved brick but jagged and challenging to walk on and you feel like you're inside a box of pencil crayons because all the houses and buildings are random colours. The people are extremely friendly; multiple times while wandering a local would regale us with hilarious details about their city. Best part: It seems like music ACTUALLY occurs at every hour of every day. Just walking down Frenchman street alone there are twenty some clubs with 3-5 acts a day. They have afternoon shows, early evening shows, late night shows... It's soo awesome!! To be honest, I only went to Bourbon Street once - and it was in the afternoon. I felt like 21 year old Jenie would have gone crazy and found it to be the most rad strip of the city... but while I was there I sort of wished that I could escape the touristy booze-driven scene. However, it IS insane on Bourbon; there's no shortage of lights, colour, people, music, BUZZ.... and I'd give it another go in the future. ;)
My favourite bar  is called The Maple Leaf (partially because this woman named Sheila was cooking the best mac n cheese on the street right outside the club. I thought I knew good mac n cheese and then I met Sheila. Also, another side note, the street food in New Orleans brought memories back to Thailand street food. It's only through travelling that I've noted the thousands (millions?) of people all over the world who support their families by hauling stalls and serving food to people ALL day long. Surely that must require an overwhelming amount of strength to maintain doing so every day. It's another reminder of how fortunate I am to play music for a living and still find the means to do luxurious things such as travel. Doesn't seem fair. I digress, I could write about this for forever.). The Maple Leaf! It's on the other side of town from The French Quarter/Tremé region and I believe it's popular to locals. We heard Johnny Vidacovich (famous NOLA drummer) play on one of his resident Thursday evenings and it was sooo groovy. 
Apart from mainly going to shows, I spent some time visiting historical sites such as Congo Square in Louis Armstrong Park. Congo Square was where the slaves would gather to beat drums, sing, and dance on Sundays while their masters went to church. It was these Sunday gatherings which influenced much of the music that came out of New Orleans. I also spent some time walking along the mighty Mississippi river. It's always humbling to be in the river's presence; it's a physical and spiritual force in the music, and culture we're privileged to have and our North American history owes a lot to its waters. 
Overall, I would say a main highlight was what became a nighttime ritual: sitting on the rooftop patio of Dat Dog on the corner of Frenchman, drinking Dat Beer, and listening to the 15 piece brass band busking on the street. Every. Night. What other city in the world can you find that!?
Yep. It is a wild, vibrant, friendly, strong, and creative place. It's so hard to capture it's essence and vibes through typing. All I can say is that I know I'm going back there again and I can hardly wait 'til then!!
Here's a few pics.
As always - thanks for reading!
xo JT
p.s. The record stores I visited blew my mind. HUGE Blues, R&B, Soul, New Orleans, Trad Jazz, and Funk music sections with a smaller Country and Folk one. No Top 40. No DVDs of bad rom coms. Just straight up awesome music. Heaven.

Crayola Box Buildings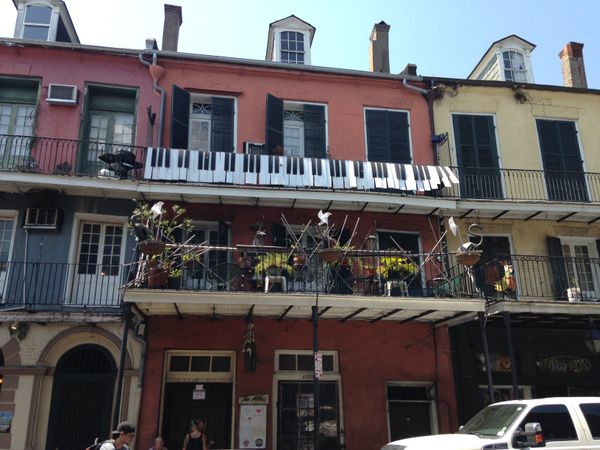 Congo Square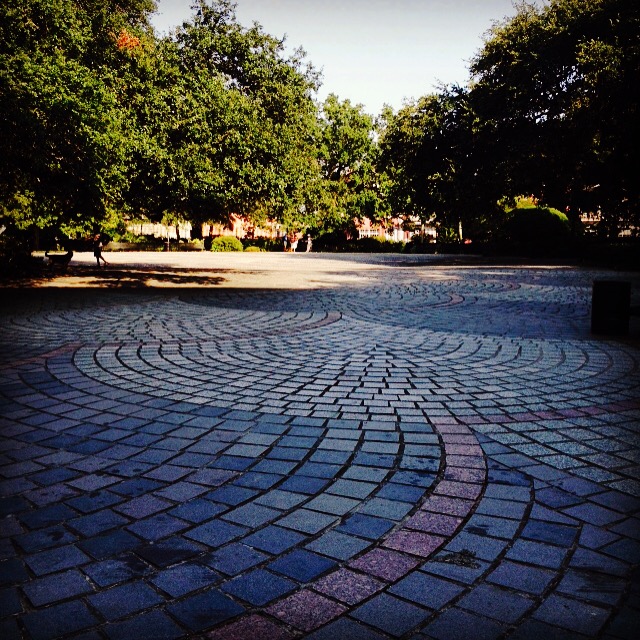 Brass Band buskin' on Frenchman Street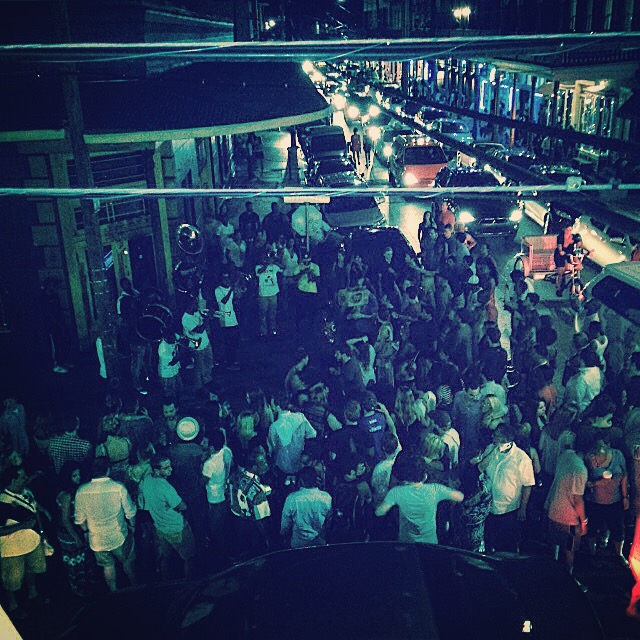 Café Du Monde (established in 1824 and serves 24 hrs a day!)