I'M HOME!
It is SUMMER here in Edmonton. I'm pasted to my chair on the upper floor of the tasty Remedy Cafe, sluggin' back water to make up for all the lost sweat thanks to the 6 block walk and the +32 degree July heat. It sure feels good to be spending an afternoon just off whyte ave. It's been a lot of highway burning through mountains, prairies, and west coast for the last month; ironically, the city is offering me a heap of stillness in this moment.
However, I couldn't be more appreciative for the adventures on the road that the summer has brought me thus far. It all started off with playing at The North Country Fair! Through stories (and one very aged photograph), I know that my folks brought me to the NCF when I was 4 months old after they returned to Canada with me from Thailand.... pretty darn cool that I got to play the stage of my first folk festival! :)
My tour into BC started June 30th at 6am with Paul (on bass!) and Jason (on drums!)... 12 hour drive on a leaky van tire through the rockies, and into the heart of the Kootenays for a two day stint in Kaslo. I'd love to someday build a small cabin in Kaslo and live there seasonly to write and wander. The slow pace and sheer beauty of the town, I believe, would put anxiety to sleep and revitalize creativity. 
The boys and I did a series of dates throughout the Kootenays and the Okanagan including venues from hotel bars, festival stage, house concerts, and concert venues. Big huge THANK YOU goes out, specifically, to The Mortimers for taking us on with relatively short notice and gathering 60-70 crazy kind folks in your backyard and for the beautiful home-built stage! Also, The Snoring Sasquatch in Creston was an amazing venue to play in! - The audience sat on couches instead of chairs.. and then Paul, Jason, and I picked the couch we wanted to sleep on post the show haha! My instinct was to sleep right on the stage, next to my keyboard, but after a few Creston beers I went for the secret bed near the entrance. Also worth noting, another crazy venue we played was Lorenzo's Cafe which is located deep in the rural woods of Enderby. The building is an old school house, built in 1919, and has been turned into a live concert venue. It's funky, eclectic, and reeks of an old-school charm clothed in cobwebs and pictures of graduates from the early 1900s. 
I drove the boys back in the mini-van after our week of dates only to change vehicles and drive back into the jungle of BC. I finished the longest leg of tour playing solo each night in similar venues as to I had with the Paul and Jason. It's pretty wild that, via playing music, one night I ended up on a mattress in the basement of a house concert in Kamloops and then the next I was lounging next to a private pool in a 5 star hotel in Whistler. Music is a vehicle that drives through a colourful storm of events and evokes a desire within myself to continue creating and playing!
I, more or less, book ended the tour with North Country and South Country Fair; I have had yet to enjoy the southern and windy parks of Fort MacLeod. Heading backstage to embrace old friends I haven't seen in months and meeting new friends is an incredible feeling! I am so grateful to be welcomed by a community of musicians - across the country - and to do so on awesome festival grounds, such as The SCF.  What a warm enviornment to be engulfed in. 
With a towed cavalier, psychadelic tan/burn lines, a dirty suitcase, laughs with the band, more miles on the road in a month than my entire life on foot, new friends, old friends, an overwhelming amount of Tim Hortons coffee, many cases of cheap beer, little sleep, and a ton of singing I can happily conclude that my July was spent in the most gratifying of ways and the benefits of the road are still continuing to unveil themselves towards me.
Feeling blessed and looking forward to many many many more years of this ahead!!
Thank you so very much for reading.
Much Love,
JT
p.s. I went for a MUCH NEEDED run in the heat hysteria this afternoon to Gallagher's Park. The Edmonton Folk Festival site has been born! I'm stoked to blend like a chameleon into the sea of people on the great big hill next week.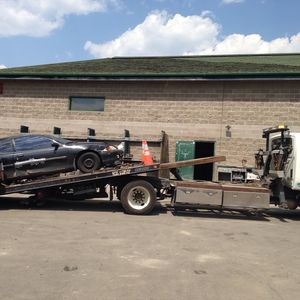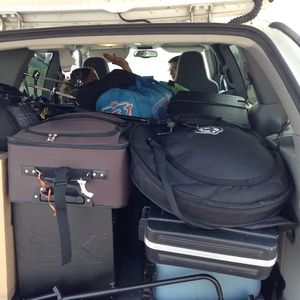 Sad Cavalier 
<--------------|
Everything we own
         |---------------------->Jason and Paul waiting for the ferry. They are so funny!                                      House Concert in Winfield, BC. It was as crazy as it looks!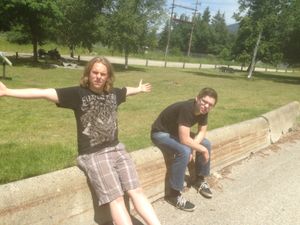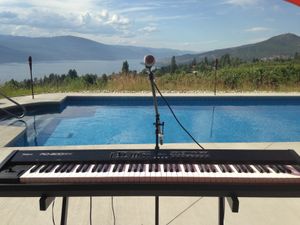 Home-built backyard stage, built just for us, in Rossland, BC!                                                          The famous Lorenzo's Cafe!