Havana.
Habana Vieja and Centro Habana: Narrow alley-like streets. It feels like curtains are drawn as you walk because the buildings are so tall and tightly arranged; it's difficult to see the sky. Homes missing doors, buildings half blown up, cracked sidewalks, crayola box coloured buildings, bright "Abierto" signs glowing, Cubans hustling tourists to eat in their restaurants, jambon sandwiches sitting on windowsills, kids playing streetball - ricocheting balls off walls. Everything is broken, falling apart, rundown. 
Vedado: Upperclass hood. Andrew and I stayed in a Casa Particular with an AMAZING human by the name of Carlos. Upon a warm greeting, we enjoyed an espresso and one of the first things Carlos said to us is how important music is to the human spirit and that it is easily understood by all walks of life. We loved him immediately.
Every day we would wake up to huge plates of fresh fruit, bread w/ homemade guava jam, freshly squeezed fruit juice, coffee, and an egg tortilla prepared by Carlos himself... and he would teach us Spanish! Mid trip we were joined by two other guests - Dan from NYC, and Rita from Portugal! Waking up and catching up with them about our Cuba experiences became a routine I really looked forward to.
After breakfast, Andrew and I explored. We spent a lot of time walking along the Malecon - which is a roadway and seawall that stretches along the coast of Havana. In some places it was risky to walk because the Atlantic waves were high at points and would drench the sidewalk haha. 1950s cars with their ragtops down rip down the street blowing black exhaust out their back ends. It's mind blowing to me that the Cubans are able to keep these cars going - and they all look pristine!
We quickly found favourite spots to eat, and me being vegetarian, it was slightly tricky but not as bad as I imagine it would have been even five years ago. Our mutual fav place to eat: Habana pizza, right around the corner from Carlos'. Outdoor place that seemed to be open at all hours. $1 CUC (which equals $1 US) for a full pan (12 inch?) pizza that slid right out of a little window. We would sit on the concrete and people watch; young Cubans would often gather here after salsa dancing to free outdoor concerts. Mmmmmmmmm... craving and missing this spot right now!!!
Andrew and I, unbenknownst to us, happened to book our tickets during the Havana Jazz Festival!! I have a strong feeling that music isn't hard to find at any time of year, but we definitely lucked out and got to take in some INSANE music! A couple times, we just happened to stumble on outdoor concerts with massive crowds gathering around the musicians. My favourite time this happened was in the Jazz Plaza. We were definitely the only non-Cubans enjoying the music, and it was equally as fun to watch all the Cubans salsa as it was to take in the music. Everybody is so musical! They all clap and feel the clave beat; in Canada people clap on one and three............................... :/ The Cubans are also extremely friendly - I had no trouble finding dance partners to give salsa lessons (I have a very long way to go.. haha). Another afternoon, I was invited to sit in with Pablo Menendez (son of the legendary Barbara Dane) and the Mezcla thanks to a mutual friend for hooking us up! So cool!
Another memorable afternoon was heading to a traditional rhumba concert at a place recommended by a friend. Andrew and I showed up just as the doors were opening, two hours early, and within minutes the club was packed. Every Friday afternoon, Cubans gather here and drink for two hours (every drink = $1 CUC = and if you order rum, each cup is a free pour... about 3 shots... aye yai yai!!!). Concrete floors, rundown, squatting toilet... everything is old. Again, Andrew and I are the only non-Cubans but we are treated like royalty! We were welcomed in right away and somebody even reserved a table for us! The concert was amazing and also over my head as I don't know a lot about traditional Cuban music. Percussion and voice. Pairs of dancers would go up near the stage and dance, in what I presume, is a very traditional way of dancing. The women often held a scarf and the pair would tease and converse with one another through their movements. By the end of the concert, the entire room was up on their feet - clapping, dancing, singing! The energy of the room was high in energy and excitement and rum. After the show ended, Andrew and I kept drinking and hanging with our neighbours. I LOVE communicating with people when we don't speak the same language! My Spanish is broken, and most Cubans also speak little English, so trying to piece together conversation is a challenge that I get instant enjoyment out of! It's problem solving through creative use of body language and select words, and my Spanish only improves the more I do it. So there we were, too many rums and cervesas deep and Andrew whispers in my ear "we have to go." He said that our new friends were stealing money from us. Throughout the night our friends had been conning us in different ways to buy them drinks and then one woman even kept all the change and walked out. It put a dark glow on the experience because we felt used. They didn't actually enjoy our company, they just smelled money. It hurt us, not because we cared about the spent CUC's but because we were genuinely loving their company and feeling so lucky to get to experience their culture. 
This experience shaped the rest of our trip. The truth is, we ARE tourists, and in Cuban standards, we ARE rich. I also have no idea what it's like to live in a country where wealthy people from other countries constantly wander through my neighbourhood to experience something new. I may not be wealthy on the Canadian scale, but I am SO wealthy in terms of global standards. I felt this way after returning from Thailand too. It is incomprehensible how fortunate I am to have done nothing and been born to two Canadian parents and then raised in Alberta. Cubans are given free education, which means they are extremely clever and well-educated, but because their country is underdeveloped it means that doctors are driving taxis. And thanks to Trump for re-establishing the embargo, Cuba can't make trades they need and it's difficult for people to leave. Andrew and I went on an amazing hike in the rain forest in a small town called Soroa. Our guide, Juan Guerra (five time national MMA champion!!), has his Masters in biology, self-taught himself English, is going to for his doctorate soon, is a teacher of America's number one MMA fighter, and is all round a super interesting/sweet guy. He's working odd and end jobs and entertaining tourists for $15 CUC each. It's just NOT fair. And everything is so old, even in the nice establishments. Even Carlos, who is well off, has a toilet that you have to re-fill with water after you flush.
Overall, it was a beautiful trip. I started crying in the airport on the way back to Toronto because I was overwhelmed. I'm beyond privileged and can't believe that I get to have the life I do. It's funny though, as soon as we landed back in TO and the phones came back out, my anxiety level immediately spiked. It makes me wonder if North Americans, with all their opportunities, are any happier than the Cubans. They may not have our creature comforts, but they have education, music, and they can all DANCE! 
Anyways, I'm back in Roncesvalles and it feels good to reflect. I hope to go back to Cuba again, explore more of their country, and take in the beautiful spirits of the people!
Thanks, as always, for reading.
Immensely grateful,
Jenie Thai
p.s. Coolest place EVER: Fabrique De Arts. (The Art Factory). It's an art gallery in a building with many different levels, so even the lay-out is super artistic and music happens throughout. But it's not like a background jazz trio or background string quartet - it's full on concerts in huge rooms. And there's a bar and the whole place becomes a night club. It was SO cool to see that there was a line to get in and then a huge concert hall sardine-like packed for jazz music. The people there love art!!!! Imagine that was how all the night clubs were in Canada? I'd like to think they'd be packed but I bet they'd be dead...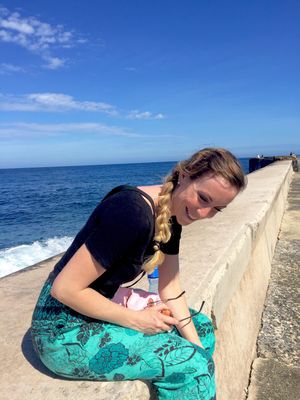 *Laughing on the Malecon!